FREE SHIPPING OR LOCAL DELIVERY* ON ALL ORDERS $100+
USE CODEWORD AUSTRALIA IN SHOPPING CART
OFFER VALID UNTIL 26th JANUARY 2022
*FREE LOCAL DOORSTEP DELIVERY WITHIN 25kms of MAILORS FLAT VIC 3275
FREE SHIPPING AROUND AUSTRALIA ON ORDERS OF $100+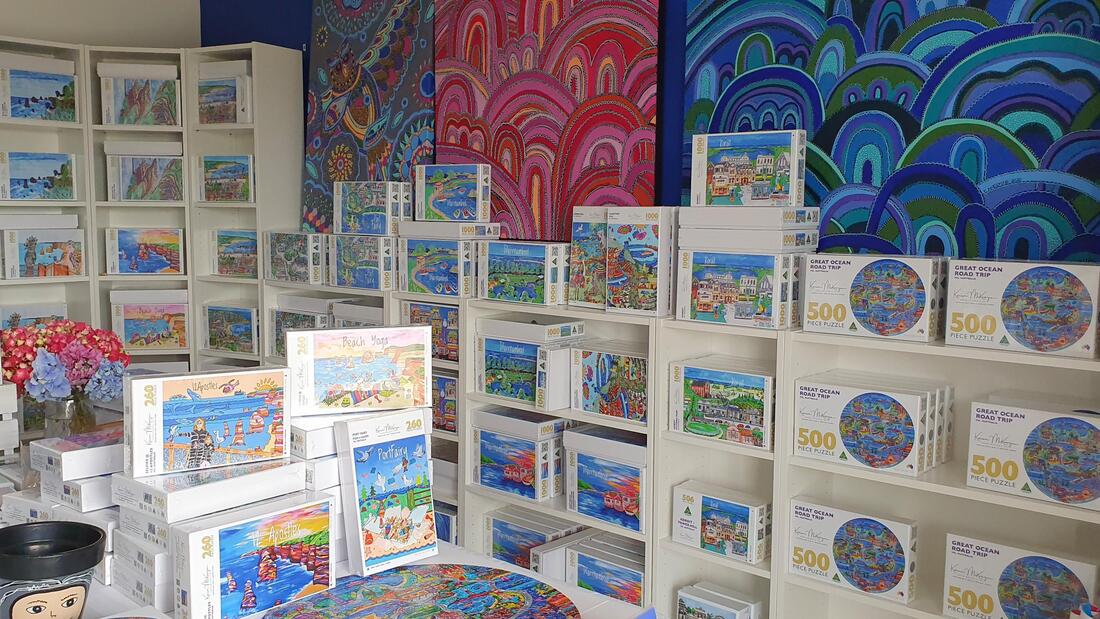 A VIBRANT VISION OF THE GREAT OCEAN ROAD
THROUGH TO THE ADELIADE HILLS

​Buy original artwork, jigsaw puzzles and unique creations by Aussie artist Karen McKenzie.

Karen loves to paint her world in bright cheerful colours.
She is inspired by iconic places like Port Fairy and the Great Ocean Road through to the rolling hills of Adelaide, SA
Based near Warrnambool, Victoria, Karen creates fun locally themed artworks in all shapes and sizes.

Why not explore Karens colourful world and get yourself or a loved one, a piece of Karens unique Aussie artwork?
You can order her fabulous AUSSIE MADE jigsaws, prints or originals direct from the artist herself.
Just click on the SHOP tab above.
Choose from local doorstep collection from Mailors Flat, Vic or take advantage of the current special
of free local doorstep delivery or shipping around Australia for all orders $100 and over!
Use codeword AUSTRALIA in the shopping cart.
Free Shipping offer runs until Australia Day 2022
Local doorstep delivery available within 25 kms of Mailors Flat, 3275.

Or you can check out the jigsaws in person!
STOCKISTS:
​The Local Place- Koroit -Large selection of designs and sizes
Middle Island Delights- Warrnambool- Large selection of designs and sizes
Collins Booksellers-Warrnambool- Large selection of 1000pc
Flagstaff Hill- Warrnambool- Large selection of mostly small sized puzzles
Port Fairy Visitor Information Centre- Port Fairy- Good selection of smaller puzzles
TowerHill- TowerHill designs only in 1000pc and 260pc
12 Apostles Kiosk- Good selection of smaller puzzles
Lorne Milkbar-Lorne- Good selection of smaller puzzles
Lake Bolac Tourist information Centre-Lake Bolac - Asorted designs and sizes available
Pombo Mart- between Colac and Camperdown- Good selection of smaller puzzles
Limestone Coast Pantry- Mount Gambier- Mt Gambier design only
Horsham Plaza Lotto- Selected designs coming early next week
​
Please note designs, sizes and prices vary slightly at different stockists.
Karens studio is currently closed to all visits during covid times.
If youd like more information on any products, just pop through an email or message Karen through facebook.


​Karen works in a range of mediums including resin, acrylic and mixed media.
Her passion is creating unique local artworks for the tourism industry.
​Karen's newest products are her popular jigsaw puzzles of which are made right here in Australia!
You cant beat these Aussie made high quality jigsaws.